Concession Fatigue in Connecticut
 August 29, 2017 / John O'Connor and Louise Williams — Labor Notes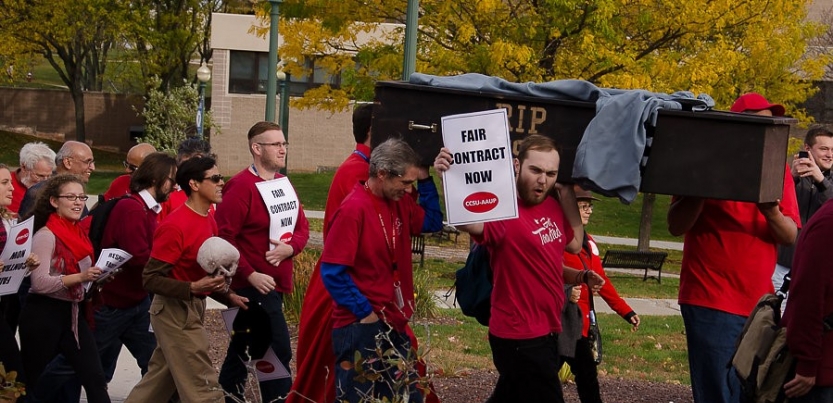 For the third time in eight years, public sector workers in Connecticut have voted for concessions. State employees have sacrificed a total of $7 billion to close budget deficits in 2009, 2011, and now 2017.
With Connecticut existing in a perpetual state of red ink, the unions' State Employees Bargaining Agent Coalition (SEBAC) opened its 2011-2022 agreement and negotiated a new deal that will save the state $1.5 billion in the next two years and $24 billion over 20 years.
SEBAC, made up of 15 unions representing 34 bargaining units and 46,000 employees, was created by statute in 1986 to negotiate pensions and health care. (Connecticut is one of only four states where public sector pensions and health care are collectively bargained; in others the legislature sets terms unilaterally.) Contracts covering all other issues are negotiated separately by each union.
Last month 83 percent of voting union members agreed to three years of wage freezes, increased pension contributions, higher health care premiums, furlough days, and the creation of a 401 (k)-pension blend for new hires.
In exchange for these givebacks, the unions received a four-year guarantee of no layoffs and a five-year extension of the structure of the pension and health care system until 2027. And they were assured that each bargaining unit's local contract would be accepted by the legislature.
Although the concessions were clear, it's the politics behind the agreement that are troubling.
INEQUALITY & AN UNFAIR TAX STRUCTURE