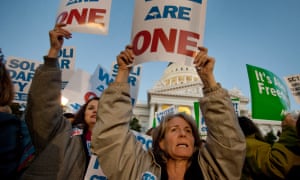 Teachers in California protest against a Wisconsin law affecting public-sector collective bargaining. Union membership among public-sector workers is about 35%. Photograph: Robert Durell/AP
Rightwing activists across the US have launched a nationwide campaign to undermine progressive politicians by depriving them of a major source of support and funding – public sector unions.
A network of conservative thinktanks with outposts in all 50 states has embarked on a "breakthrough" campaign designed to strike a "mortal blow" against the American left. The aim is to "defund and defang" unions representing government employees as the first step towards ensuring the permanent collapse of progressive politics.
The new assault is being spearheaded by the State Policy Network (SPN), an alliance of 66 state-based thinktanks, or "ideas factories" as it calls them, with a combined annual budget of $80m. As suggested by its slogan – "State solutions. National impact" – the group outlines an aim to construct a rightwing hegemony throughout the US, working from the bottom up.